Happy Monday loves! Again, I apologize for being absent so much. I have a HUGE test at 10am & prayers are appreciated!
I have been so blessed to be a student at Harding University for several years. I attended undergrad here & now pharmacy school. What I love so much about Harding is the Christian atmosphere that I get to wake up to every day. In pharmacy school, we have a special program called Mentor-Mentee. We meet each Monday at 8AM with an assigned teacher, as well as members from each class. I seriously have the BEST mentor in the world. She has become like a mom to me since mom has passed away. She is there for me every second of every day. I thank God for her, because it has truly made this semester bearable.
We have a list of activities to complete in Mentor-Mentee, but we have also chosen to read a book in this class: Captivating. (The boys read the version Wild at Heart.)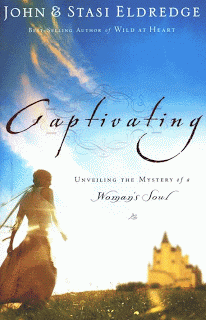 I have been blessed by this book in so many ways. I had read it before, but I was much younger at the time. It's great to dive back into as I have matured & gotten older. And what else is great is that we have two guys who get to share their views of their version of the book.
Now for my thoughts so far (through Chapter 5):
God made us beautiful, but how in the world are we to perceive ourselves this way in today's world? That is one of the main questions that this book seeks to discover. God NEVER wanted our world to have this twisted view of beauty, but we cannot focus on that. We must focus on God's will for us, to be pure, beautiful, and after His own heart.
This book has really stirred up some deep thoughts in my mind about Satan. Before Satan was cast down, he was the most beautiful. He was God's angel, yet failed Him. Satan is longing to be beautiful in God's eyes, and I think that is why we are tempted to pursue "fake" ways of being beautiful today through clothes, makeup, surgeries, etc.
Now don't get me wrong, I love to have a cute outfit, pretty hair, and flawless makeup, but this should not and cannot be our focus. Our focus must remain on our Heavenly Father. There has only been one perfect & beautiful soul to walk the Earth and that is Jesus Christ. I pray that I never strive to be more beautiful than Him, but also remember that all beauty comes from God.
I know that I haven't been blogging as much, but maybe God was trying to tell me something. Maybe this blog post stands out from the rest, I sure hope so. These words were inspired by my heart & I hope they have blessed you.
I would LOVE to talk to anyone about this book, my walk with Christ, and how He has changed my life. I love each & every one of you & I pray for you daily.