Hey everyone! I hope you all are enjoying this cooler weather. I'm so thankful that it's not 80 degrees when I leave work at night. And how are enjoying the time change? I'm loving the extra hour of sleep I get; however, it feels like it's SO late all the time when it gets dark at 5pm. I have found myself going to bed earlier which is KEY to a healthy body. My friends over at MyChelle sent me three products to try for healthier skin and I want to share them with you today. I can definitely see a difference with the Vitamin C contained in these powerful skincare products.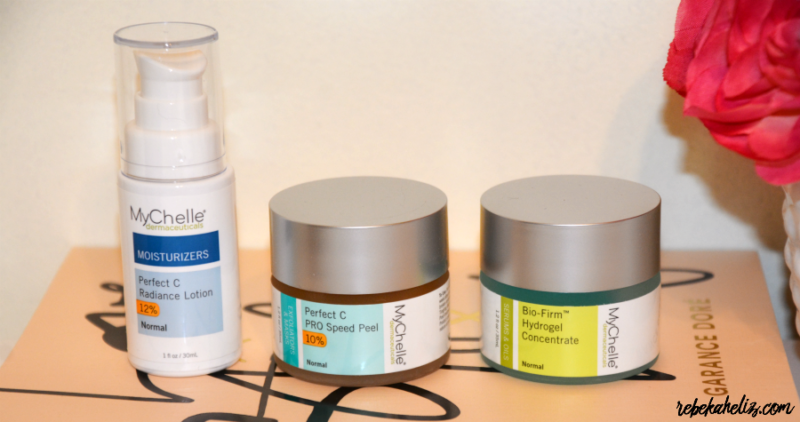 If you know, you know that I'm a sucker for pretty packaging. I love clean, sleek packaging and MyChelle definitely fits the bill. But what I love even more is products that work. I love products that do what they claim to do.
First up, the "Perfect C Radiance Lotion" is a handy moisturizer that is best when used daily. When moisturizers are light enough to be used daily, they are a must-have in my opinion. I do not like putting on a heavy moisturizer that weighs my skin down.
About the Perfect C Radiance Lotion:
This velvety-rich, nutrient- and moisture-restoring lotion delivers a potent 12% dose of L-Ascorbic Acid combined with Plant C-Stem™ and Licorice Extract to help brighten and protect skin from the effects of environmental pollution for a smoother and more luminous complexion.
The "Perfect C Pro Speed Peel" is up next. When I can get spa-like benefits in an at-home peel, count me in. My schedule is demanding. I'm either usually at work on on the road, so this product is perfect for me. After cleansing my face, I apply this product.
About the Perfect C Pro Speed Peel:
An Industry First! This one-step professional Vitamin C peel, is formulated with a powerful dose of 10% L-Ascorbic Acid, 1% L-Lactic Acid, Plant C-Stem™ and Retinal to deliver youthful, glowing skin. Formulated with 25% Citrus Fruit fragrant puree, in only one minute, this fact-acting peel retexturizes skin while gently exfoliating to deliver youthful, soft, and glowing skin.
Lastly, I follow with "Bio-Firm Hydrogel Concentrate" before I head off to bed. This powerful concentrate is one that helps skin to regenerate while I sleep! When a product works without much effort from me, I'm sold.
About Bio-Firm Hydrogel Concentrate:
A concentrated 2% Hyaluronic Acid moisture-binding gel that melts to instantly smooth and fi rm skin. Packed with potent Alpine Nunatak™ Plant Stem Cells and Crocus Chrysanthus Bulb Extract to help fi rm and provide deep nourishment and hydration.
What I really like about these products is the care that MyChelle puts into creating effective treatments without compromising on ingredients.  All MyChelle products are Vegetarian, Cruelty-free, and Free of Phthalates, Parabens, Sulfates, Ureas, Artificial Fragrances and Colors, Petroleum, GMOs, and Gluten.
For more information on these products, be sure to visit MyChelle here.
 Thanks for reading & following! XO,
Rebekah
Thanks to MyChelle for sending me these three products to try. As always, all thoughts & opinions are my own.