Happy weekend, y'all! I hope you are all off to a relaxing weekend. I've been shopping around quite a bit to add a little bit of color to my accessories this spring. I will be honest, I don't want to spend a lot on accessories that I may only wear a handful of times for the styles this season. One thing I've noticed though is that I have been seeing bright, bold colors everywhere! I thought I would share some of my favorite bright spring accessories I've seen on my search that are all under $50: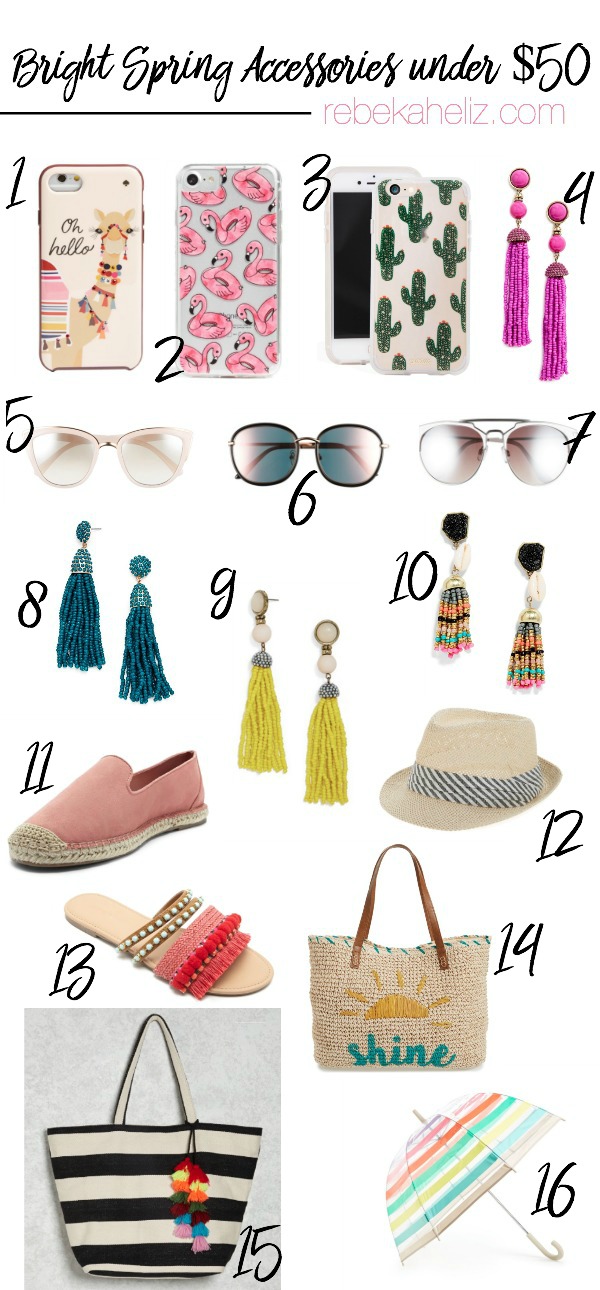 1 // 2 // 3 // 4 // 5 // 6 // 7 // 8 // 9 // 10 // 11 // 12 // 13 // 14 // 15 // 16
This camel iPhone case (#1) is adorable! I ordered it, and it's even cuter in person! It has little jewels on it and reminds me of my love for world travel. I've adding riding a camel to my bucket list.
These sunglasses (#5, 6, 7) are all $12 and are designer dupes for way more expensive pairs. If you've seen the Dior sunnies, #7 looks just the same and won't cost you hundreds ;)
I ordered both pairs of these shoes (#11, 13) and they are under $25. The fringe and pom-poms are adorable and I LOVE blush pink this spring.
Be sure to snag this striped umbrella (#16) for the heavy rain this spring. The LAST thing you want is your pretty hair to get messed up. I know umbrellas aren't something we think of often, but it's best to have one in your car so you can grab it for those unexpected storms.
Shop these items:
Thanks for reading! XO,
Rebekah