Happy Monday y'all. I hope everyone had a great weekend! On Friday night, I had the privilege of attending Harvest Party 2017 benefitting the Cobblestone Project. Today I'm going to recap the event and explain what the Cobblestone Project means to Arkansas.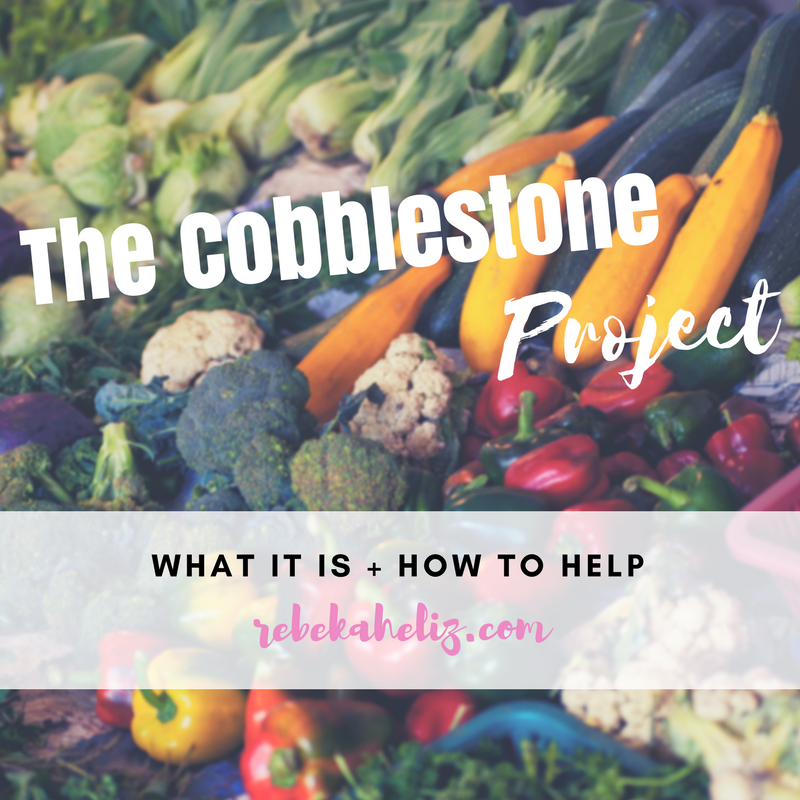 Harvest Party Recap:
On Friday night, we gathered at the beautiful Morter Farms Barn near Rogers, Arkansas. The setup could not have been more perfect. The sun has begun to set earlier, so it was getting dark upon arrival. This was a welcome gift though, because you know how hot it gets in Arkansas.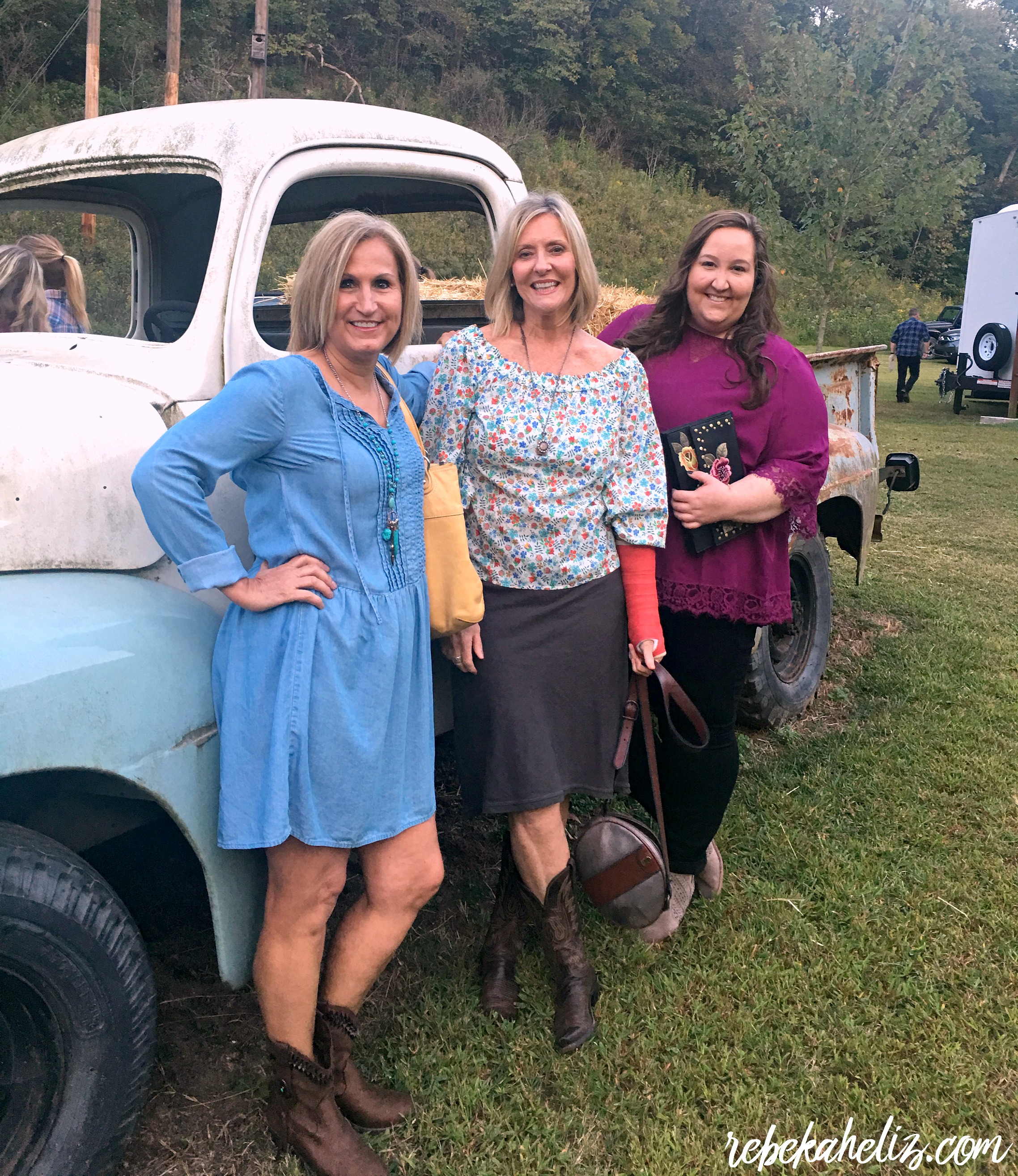 We gathered together to be updated on the project and to see how it was developing in Northwest Arkansas. It was great to be surrounded by others who are like-minded in helping those who are in need. We were treated to a farm to table meal as we heard from several speakers who were involved with the Project.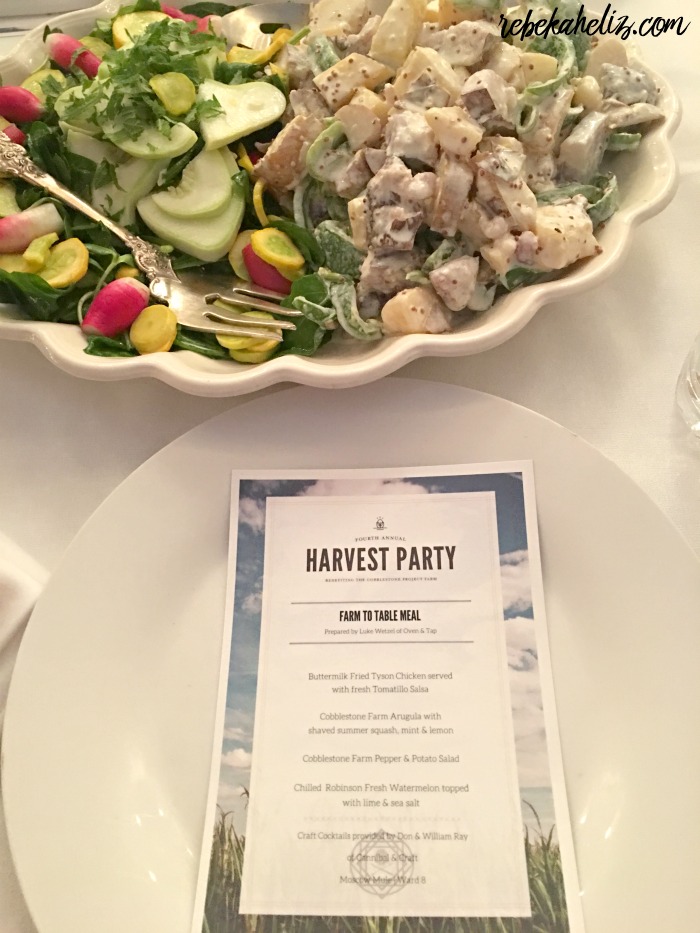 There was live music, silent auction, and a bonfire to wrap up the night. Thousands of dollars were raised for the Cobblestone Project. What a blessing!
What is the Cobblestone Project?
(from their website) The Cobblestone Project is a local non-profit passionately committed to hunger relief by donating over half of production to local food agencies in NWA. Our mission is to grow fresh food locally so we can support and teach the community the role fresh food has on health, wellness and a sustainable future. The Cobblestone Farm aids in the fight against hunger by growing and distributing certified naturally grown produce and eggs to local agencies.
The Cobblestone Project has a farm in Fayetteville which harvests various produce and delivers to partners throughout the area. These partners distribute this produce to those in need.
Did you know that 1 in 4 families in Northwest Arkansas suffer from the lack of adequate food? Now is our chance to step up and help them.
What does it mean to me?
As a pharmacist, this project means so much to me. For example, I began to counsel diabetic patients on the importance of healthy food in their journey with the disease. I quickly learned how much our communities need to be educated on which foods should be consumed more often: fresh fruits & vegetables. Eating healthy/clean take time and planning though. What I like about this project is the education that comes with it.
I have seen what it's like for children to struggle not knowing where their next meal will come from. My mom and grandma were both teachers when I was growing up, so I was able to see it first hand. It was sad to me at that time, but as I've grown up, it's become more sobering to me.
One Bible verse in particular has really spoken to me when I saw the goal of this project:
Luke 12:48: From everyone who has been given much, much will be demanded; and from the one who has been entrusted with much, much more will be asked. (NIV)
How can you help?
Volunteers are necessary at Cobblestone Farm and you can sign up here.
Donations are key to keep the Cobblestone Project running successfully. You can visit this site to help.
CSA's are available for purchase. CSA stands for community supported agriculture. This is a way for farms to deliver fresh produce, eggs, and flowers directly to consumers. Your CSA purchase will give back to the community as well. Below is the schedule from last year's CSA: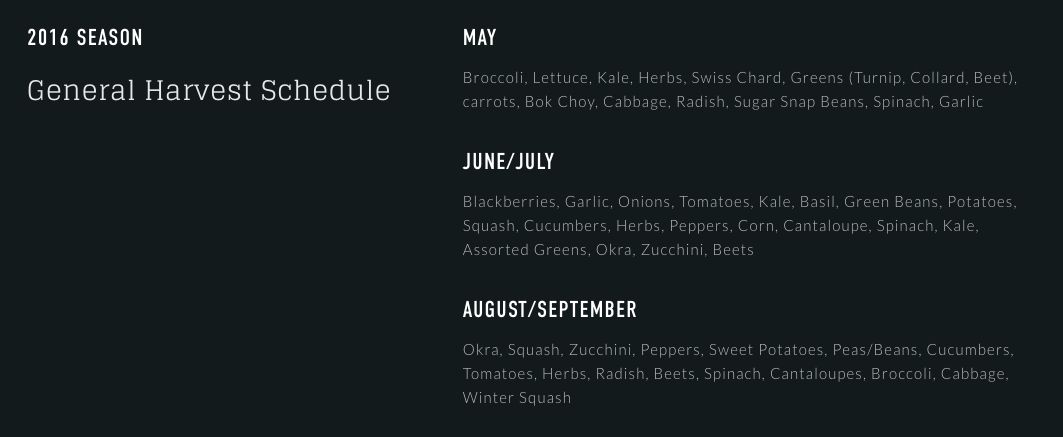 (image via Cobblestone Farm)
Be sure to follow the Cobblestone Project on Facebook, Instagram, and Twitter. Email me if you have any questions about how to get involved or if you would like more information!
Thanks for reading & have a good week. XO,
Rebekah
*Thanks to Cobblestone Project for having me at the Harvest Party and to be an ambassador for the Project. All opinions are my own.*