Y'all if there is one thing in this world I love it is SLEEP. But on the other hand, if there is one thing in this world I don't get enough of it is also sleep. So today I wanted to share my tips to help you get the best sleep of your life.
To celebrate sleep awareness month, you know that month where we technically LOSE an entire hour of sleep due to Daylight Savings Time, this post is all about those zzz's.
Two nights ago apparently I slept on my neck wrong, because I have been experiencing the WORST crick in my neck ever. It hurts so bad. So my first tip: splurge on great pillows. I know it is totally tempting to buy the $5 ones at Wal-Mart, but at least splurge on one pillow for your bed that will give you great support throughout the night.
Next: turn off the tv. Trust me, I have failed at this rule for so many years of my life. I cannot stand a quiet room, but there's a difference between a quiet room and a room with glaring, bright lights. Don't get me wrong, you can watch your show (my favorites: Kardashian's, Southern Charm, the Voice) but when you start to feel sleepy, just turn it off. Also, not using the sleep timer will help you drift off into your REM cycle faster.
And lastly, my tip for great sleep would be to wash your face before bed. I know this kinda sounds obvious, but I promise it will help to relax your skin and face and make you feel so much cleaner. And hello, who wants to wake up with makeup all over your pillow? Not me.
My lovely friends over at Casper have compiled a list of their tips on getting better sleep, so be sure to check that out HERE! Casper is a fabulous company that ships mattresses to your door in a box. That's right, A BOX. They offer a great promise:

Casper has also compiled a list of the most common sleep type.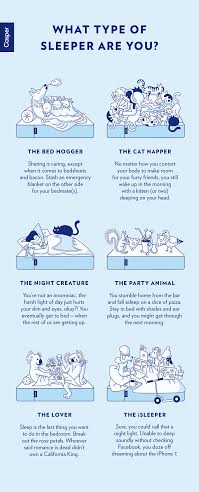 So, I want to know, what type of sleeper are you? I think I would be considered the "Bed Hogger." I'm so serious about my sleep that I don't want anyone getting in my way. Don't get me wrong, I will share anything else with you, just not my sleeping area.
Comment below on which type of sleeper you are!