Recently I was contacted to review Eu Natural's Clarity Vitamin C Serum. While I given a bottle of the serum to review at no cost, all opinions are my own.
I've been on the market for a while looking for ways to keep my skin hydrated, healthy, and younger looking. Even though I'm not even 30 yet, I think it's important to keep my skin looking younger for the future. I have found my solution! Clarity Vitamin C Serum.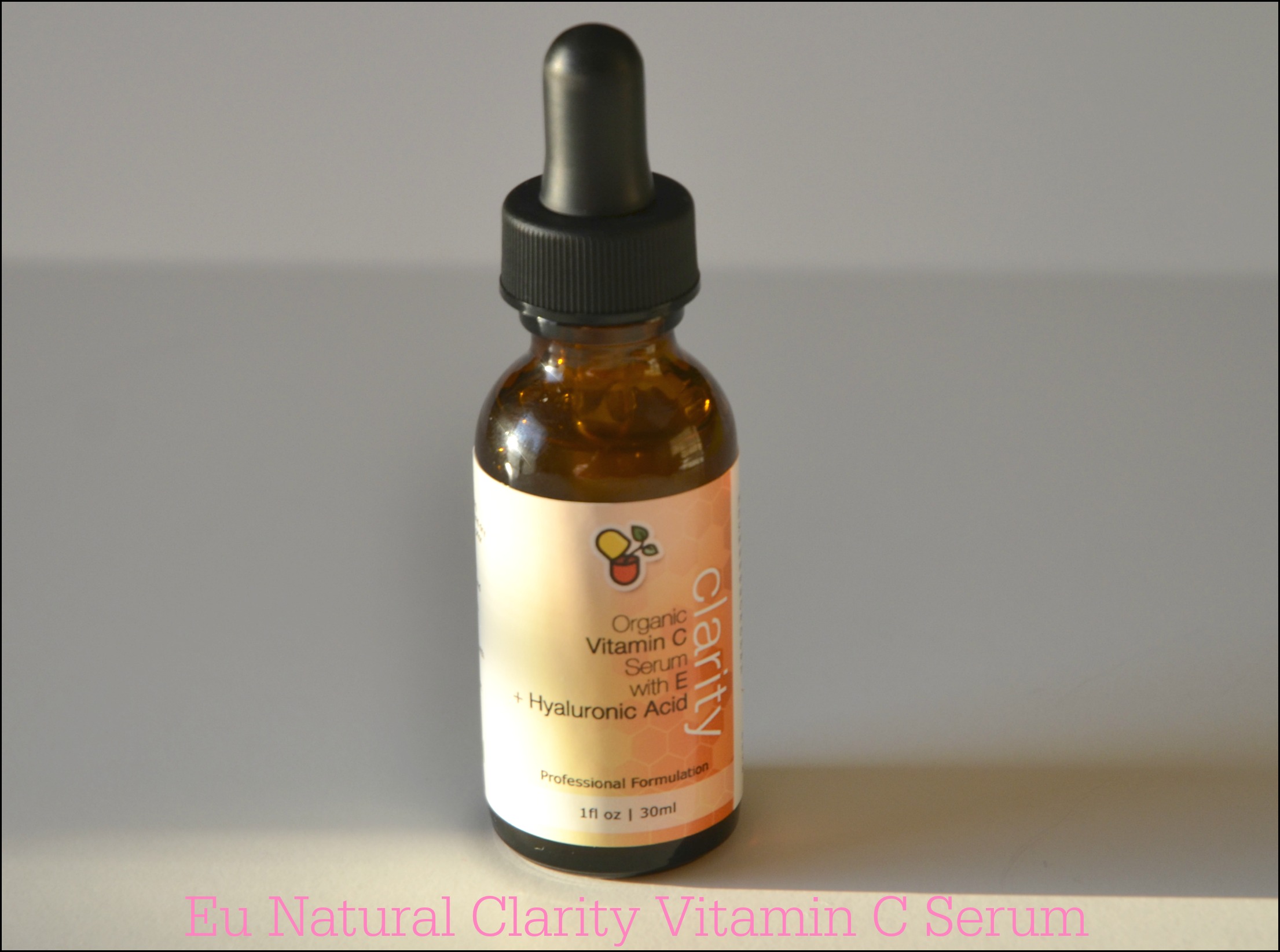 About this product: Clarity Vitamin C Serum antioxidant blend features Vitamin C, Vitamin E, Hyaluronic Acid, and Herbal Extracts, shown to smooth the skin, reduce fine lines and wrinkles, and treat dark spots. It also stimulates collagen production for radiant and youthful looking skin.
The collagen produced by this product will in turn create younger looking skin.
Many reasons I love this serum include:
*it's made in the USA of all-natural ingredients without parabens or alcohols (this means that the FDA has its strict guidelines on this serum, so you won't find any hidden additives!)
*my dark spots (from the sun) are starting to fade away after just 3 days using the product
*the brightness & radiance of my skin is easily visible to those around me (my grandma asked what I had been doing differently with my skin)
*there is no greasy feel after you apply it
*there is no nasty smell
*it's easy to apply just once daily
Here's how I apply my Clarity Vitamin C serum: Each morning I wash my face normally with my usual cleanser. I then lightly dry my face and neck with a washcloth. I then apply 6 drops of the serum to my face and neck. After the serum has completely dried, I apply my usual moisturizer and makeup.
The makers of the Clarity Vitamin C serum want to give my readers an opportunity to purchase this amazing product at 15% off! To purchase, you can use this link on Amazon. At checkout, enter code "EUN15OFF" for your discount! It's a great price for a product that will keep you looking your best for years to come. And don't forget, a product made following strict FDA guidelines is always best for your skin.
*This post was powered by BrandBacker, but all opinions are my own!*