Hey y'all! Temperatures have finally dropped around here where it's not 80 degrees in the fall. This weekend the high is only in the 40's! For Arkansas, that's cold. I'm thinking Uggs & blanket scarf weather ;) I'm back today with another product that will definitely benefit your skin throughout the harsh fall/winter months. If you didn't catch it, be sure to check out my "intro to fall beauty" post here. In today's post, I'm sharing the one soap-free cleanser you need from Exuviance.
Take it from me, it is SO much easier to keep your skin hydrated before winter arrives. It is much harder to try to get moisture back into your skin after you've already lost it. I have made this mistake several times, mostly when I was younger and didn't realize how important taking care of my skin was. If there is one thing that dries skin out, it is soap. Thankfully, Exuviance has developed a soap-free cleanser that works wonders on my skin.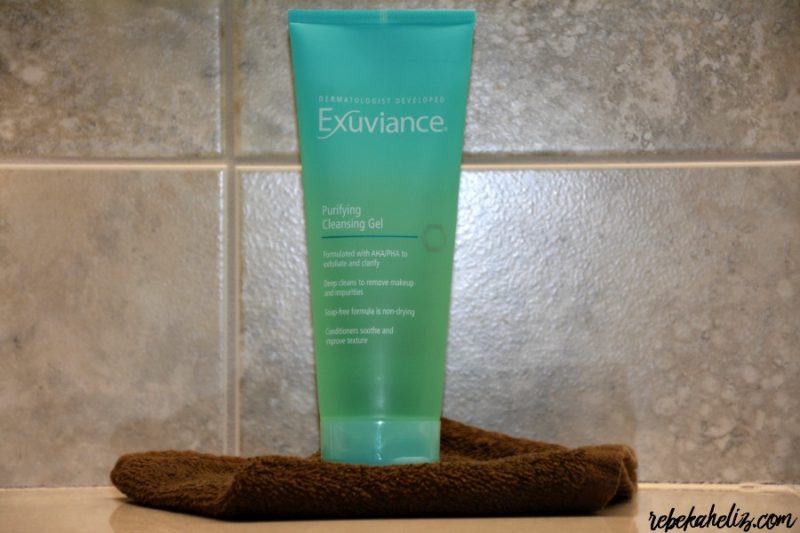 What I look for in a cleanser:
*non-drying
*safe for my sensitive skin
The most important thing for me in cleanser is that it deep cleans. It is a bonus if it removes makeup and doesn't just smear it all over my face. I don't like having to wash my face more than once, and this Exuviance cleanser works for me.
More benefits include:
*anti-aging properties through Alpha and Poly Hydroxy Acids
*exfoliation & clarification through Glycolic Acid (AHA) and Gluconolactone (PHA)
*safe for all skin types, even sensitive skin
How To Use:
This product is made to be used every morning and every night. If I can tell you one thing about skincare, it is super important to be consistent! I will notice that my skin can break out super easily if it's dry or if I'm not consistent with my cleanser. One myth I've dispelled is the fact that moisturizer might make my skin break out. When washing your face with a great cleanser like this one, be sure to apply a nice layer of moisturizer on top. This step is important to keep your skin hydrated. And don't worry, moisturizer won't cause you to break out. The only thing that causes me to break out is going to bed with a full face of makeup on ;) Don't be like me! Wash your face consistently each morning and evening.
Benefits I've Seen:
I've used this products for 2 weeks now. I didn't realize how harsh other soap-based cleansers were probably treating my skin. I found myself looking forward to washing my face, because it felt so soft and clean afterwards. I think it's important to use this cleanser morning and night to see the full benefits it can bring. My skin is hydrated, fresh, and bright. I have had a couple of comments stating how bright & alive I look when showing up at work. This is exciting, because no one wants to have dull skin in the fall/winter. My sensitive skin has found its match in this soap-free cleanser. I'm obsessed with the benefits and look forward to trying out more Exuviance products.
How To Purchase:
Head over to the Exuviance website and check out their great supply of skincare products. This specific soap-free cleanser can be purchased here.
I hope you enjoyed seeing the benefits of this cleanser. I only share products here that I've tried and LOVE. I would like to hear how you keep your skin healthy & hydrated this fall & winter. Let me know in the comments below ;)
XO,
Rebekah
Thanks to Exuviance for sending me this soap-free cleanser to try. As always, all thoughts & opinions are my own.