Happy Tuesday! I hope you had a good Monday! Later on in the summer I am taking a trip to Europe. I have been out of the country before, but I seem to always forget the Essentials. Or even those things you wish you had. Let's remember, I like to keep it cute & classy while traveling ;)
So on Tuesdays, I thought I would share great products that I have found to take on my trip. I'm ALL about deals, so rest assured I've looked for the best deal for your money.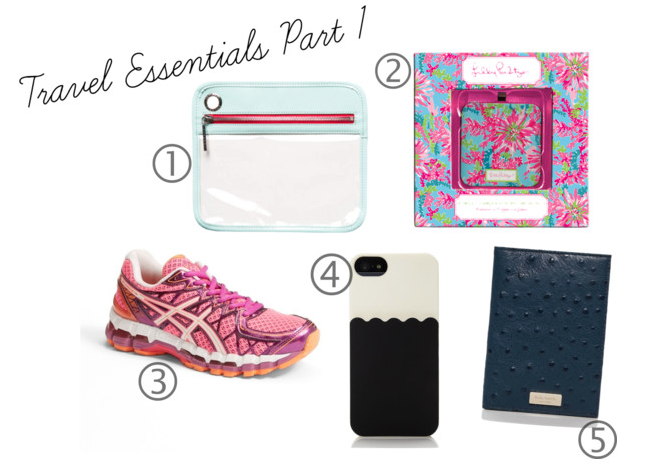 1. Carry-On Bag for Liquids, Truffle, ($32) *Mix & Match 3 bags for 10% off by using "SPRING10"
2. iPhone 5 mobile on-the-go charger, Lilly Pulitzer, $34
3. Shoes that will allow you to walk A LOT, Asics Gel Kayano, $159.95 *these are for pronation where you foot rolls inward vs. outward*
4. iPhone 5/5S case with card holder, Kate Spade ($35)
5. Passport Case, Kate Spade ($29) *Enter HERE for surprise sale!*
So, I will be back next week with more essentials for my trip! What do you always take with you when traveling out of the country?