Today's post is all about an easy five minute makeup look with the best products I've found. I am on rotations for the next couple of months, and I usually have little to no time to get ready in the mornings. There is hardly time for me to brush my teeth, much less put on lots of makeup. (Don't worry, I take several minutes to make sure my teeth are super clean!) I have tried many products over the years but I have narrowed it down to just the basics that work well…
(Makeup bag, Stella & Dot // Necklace, Stella & Dot)
Step 1: Primer, Tarte
Apply a dime sized amount all over your entire face and be sure to cover evenly. Why I love it? This primer fills in your imperfections, allows your foundation to go on evenly, and helps your makeup last all day. Did I mention it feels like silk?!
Step 2: Foundation, Clinique
I use a beauty blender to apply this foundation over my whole face. Be sure to blend well in key areas, such as jaw line, eyebrows, and around your nose. I use the color "28 Light." This color matches my skin PERFECTLY, so I don't have to worry about a mismatch.
Step 3: Highlighter, Clinique
These chubby sticks pretty much are the best thing that has ever happened to me. I apply highlighter in 5 key places: upper cheekbones, middle of lower lip, middle of chin, just below my eyebrows, and in the corner of my eyes closest to my nose.
How to apply? I use my finger and dab in this highlighter and then apply to the places listed above. Be sure to blend. You will see an amazing change in how much your face glows after this step.
Step 4: Contour, Clinique
The highlighting stick's BFF: the contour. I apply this stick in two places: on the side of my nose and along my lower cheekbone.
How to apply? For your nose, right at the bridge make a skinny line down each side. Blend with a contouring brush. For your cheekbone, make a "fish face" and apply a skinny line of this stick along your cheek bone toward your ear. Blend with a contouring brush.
Step 5: Bronzer, NARS + Kabuki brush, NARS
I use the color "Laguna" which is dark enough to show contrast, but not dark enough to look like I laid in a tanning bed for hours ;)
Again, make a fish face, and apply on the apples of your cheeks with a blush brush. I guess you could say I use this bronzer as my blush. It will give you great color!
Step 6: Eye Shadow, Bobbi Brown (similar here & here) + brush, EcoTools (LOW price!)
This eye shadow palette is amaze! I use the non-shimmer taupe on the top middle row for an all over eye lid color. I will then add the dark brown on bottom left below the crease of my eye lid. Blend well and you are good to go.
Step 7: Mascara, Benefit
This mascara is my favorite for everyday use for one reason: WATERPROOF. I am not always looking for massive curl or extension for an everyday look, so I like that this mascara lasts all day and still makes my eyes pop. Don't worry if you're working in the humidity or you are sweating…this mascara stays put!
Step 8: Lips, YSL ("nude provocateur") + MAC ("creme cup")
I first apply the YSL gloss coat on my lips. About 5 seconds after you apply, you will see how it changes the feel of your lips. It's almost like it's locking in the moisture. I then apply a layer of MAC "creme cup" lipstick. This pink color is just enough color to keep it interesting, all while being muted enough for the workplace.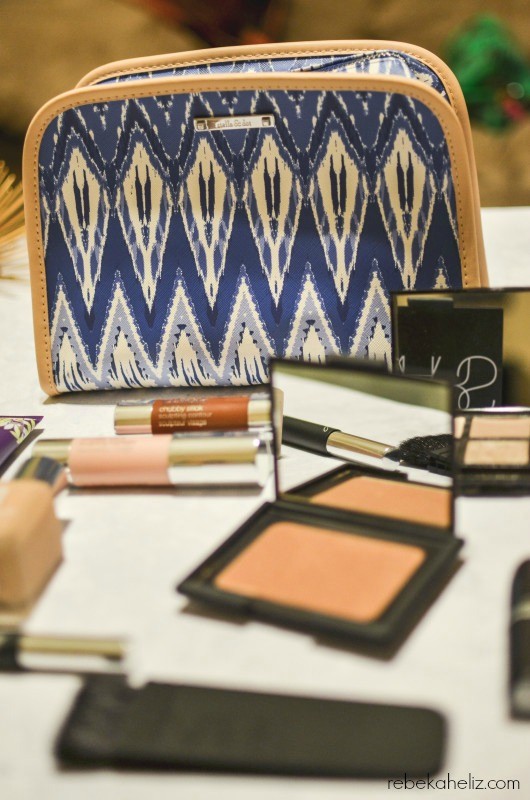 (photography: Melanie Kay)
I really hope you enjoyed my five minute face routine. I promise after you practice this routine, you can probably do it in like 3 minutes.
Let me know what other makeup posts you would like to see!
XO,
Rebekah