Thanksgiving is almost here! 5 days until major traveling starts for so many people. I wanted to use the weekends here on my blog to introduce gift guides that will help you in your holiday shopping. I know how much gift guides help with my shopping, so I figured I would help you out as well. I will be having a new gift guide here on the blog every weekend until Christmas, so I hope you enjoy. First up is a gift guide for the world traveler: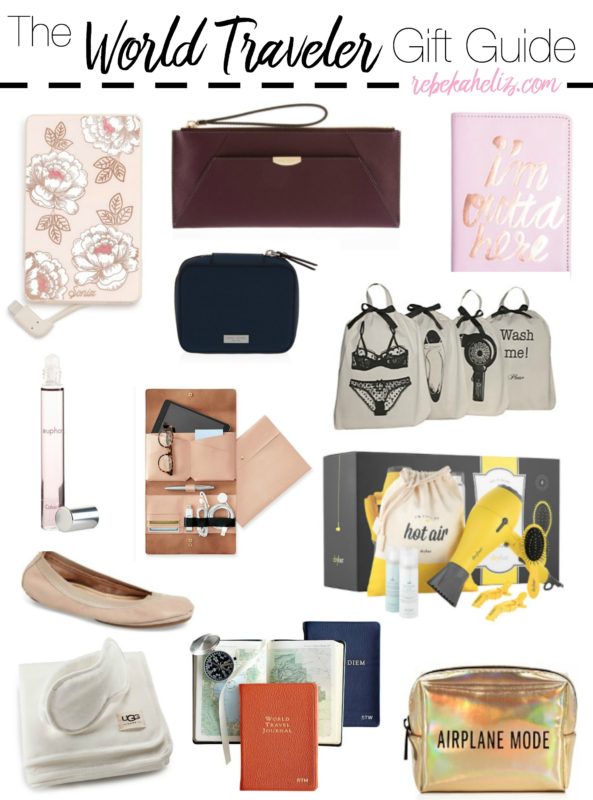 from top left:
phone charger // travel wallet // passport holder // jewelry case // drawstring travel bags // rollerball perfume // travel organizer       DryBar travel set // foldable flats // mask & blanket set // travel journal // airplane mode travel kit
As I've gotten older, I am realizing more and more that I LOVE to travel. Recently I've been on trips to Dallas, Houston, and Lubbock. Are we seeing a Texas trend here?
These items are all guaranteed to make traveling a breeze and your globe trotting BFF will thank you.
The last trip, I took two external phone chargers. I love that they are portable, and this one from Sonix is adorable! I took this Henri Bendel wallet & jewelry case on my last trip, and they keep me organized on the go.  They are high quality leather as well which is nice. You can get them monogrammed, too!
Hands down my favorite perfume of all time is Euphoria. It smells DIVINE, and you don't get overpowered by the smell. It lasts all day! The rollerball version travels well, and it doesn't cost an arm and a leg. Don't forget to throw in a pair of foldable flats on your next trip. I took two pairs of these to Houston, and I'm thankful I did. They don't take up a lot of room in your bag, and they are super comfortable. Also, who wants to put dirty shoes in your luggage with your clothes? Not me. I love these drawstring bags to keep your bag clean & organized.
Lastly, never forget a travel journal to write down all of your memories from your trips. You never know when those will come in handy ;) Monogram this journal for you or your BFF!
Thanks for stopping by my blog and checking out today's gift guide for the world traveler!
Shop all items here:
I will be back next weekend with another gift guide! If you have any specific wishes for gift guides, let me know in the comments below :)
XO & Happy Holidays,
Rebekah