Hi everyone! I hope you all had a great holiday weekend! I thought I would start the week off by sharing all of the reasons why to subscribe to the Sephora PLAY! box! I will also share a review of my Sephora PLAY! box from May, so let's get started.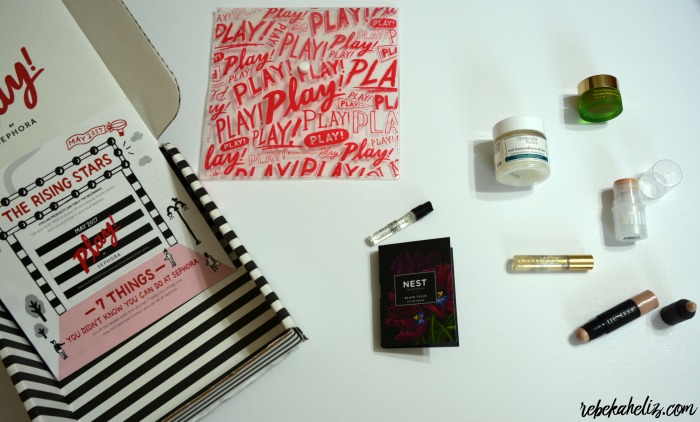 What is Sephora PLAY! Sephora PLAY! is a monthly subscription box filled with fabulous samples by some of my favorite beauty companies. You will get F-I-V-E samples & a fragrance sample bonus each month!
Why I love Sephora PLAY! Each month, the box arrives to me and comes with all products tucked nicely in a little bag. I've had satin drawstring bags, plastic envelope type bags, and cute canvas drawstring bags. I love each box, because it is always themed.
Are there any in-store benefits? YES! Each month you will get a "PLAY! Pass" that you can take to a Sephora store for a one-on-one tutorial. Guess what? You will also receive 50 points to your beauty insider account just for visiting the store! It's a win-win. This is on top of the 10 points you will get each month for just subscribing to the box. ($10 box = 10 points)
How much is shipping? Shipping is always free!
How often do you get a box? This is a monthly subscription box.
What was the theme for the May box? Beauty on the rise
Last Thursday I finally had time to check my PO Box and saw my Sephora PLAY! box in it! The boxes are brown & white striped, so I always jump for joy when I see it. Here's a peek at what I got in this month's box: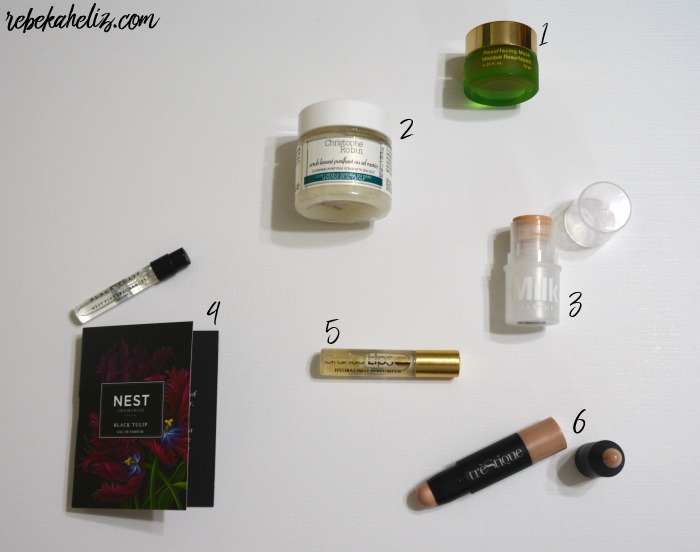 ONE: Tata Harper Resurfacing Mask–I used this mask last night so that I could give you a legitimate review. I have very sensitive skin, but this mask is calming and non-irritating. The instructions recommend to leave on for 20-30 minutes (or 10 minutes for sensitive skin). Since I have sensitive skin, I chose 10 minutes. If I could describe how this mask felt on my face using one word: TIGHTENING. This is one of my favorite feelings for a mask, so I am excited to continue to use this product. Would I purchase this? YES.
TWO: Christophe Robin Hair Scrub– There are several different ways to use this product, but I chose to apply like a shampoo. I wanted to be sure it was safe on color-treated hair, because I just got my hair done last week. You are good to go if you have chemically-treated hair :) I used a tablespoon on my hair and scrubbed my scalp pretty well to be sure to get any buildup out. I then added water and rinsed. I really liked how clean my hair felt after this scrub. Would I purchase this? YES.
THREE: Milk Beauty Blur Stick–This is my first time using a Milk product. I have heard good things about this brand, so I was excited to see this burring stick in this box. With the insane humidity, this product is a welcome addition to my makeup bag. I use this product in places that my face tends to get shiny. I apply in my t-zone, under my eyeshadow, and on my chin. It works very well as a primer, and is handy in its stick form. Would I purchase this? YES.
FOUR: NEST Black Tulip–This perfume is a sultry scent that is good for someone like me who doesn't love a fruity scent. All of the perfumes I have are from the oriental family. If you are looking for a scent that's good for a date night out, this perfume is for you. Would I purchase this? No (simply because I have enough perfume right now)
FIVE: Grande Lips Plumper–This plumper has hyaluronic acid to plump lips. Since I received the clear color, it can be used under your favorite lip color. If you've followed me for a while, you know I don't take a whole lot of risk when it comes to lip colors. I usually just use a nude gloss. Be careful to only apply on your lips, because if you get this on the skin around your lips, it will turn red. Would I purchase this? No (only because I have other concerns to tackle before plump lips;))
SIX: Trestique Multipurpose Stick–This stick is a multipurpose highlighter that is super silky and blends well with makeup. This stick has coconut oil in it, so it won't dry out your skin. I love products that I can throw in my purse or clutch, so this stick will come in handy. I can see myself using this for an afternoon pick-me-up. Would I purchase this? YES
Shop the May box:
Now's your chance! There had been a major wait list to join Sephora PLAY!, but you can join right now. There are open spots! Sign up here!
---
I want to hear from you:
-Are you a Sephora PLAY! subscriber?
-If so, what's your favorite item you've ever received?
---
Thanks for reading! XO,
Rebekah