Happy Tuesday everyone! I'm still recovering from an #nsale hangover! Have you snagged any goodies? Be sure to let me know in the comments. This last weekend I booked a hotel strictly for a pool day for myself. I had been needing some sun, because I was am ghostly white. I knew I wanted an outdoor pool, and I knew I needed a new pool/beach bag. I've got you covered on all the pool day must-haves below.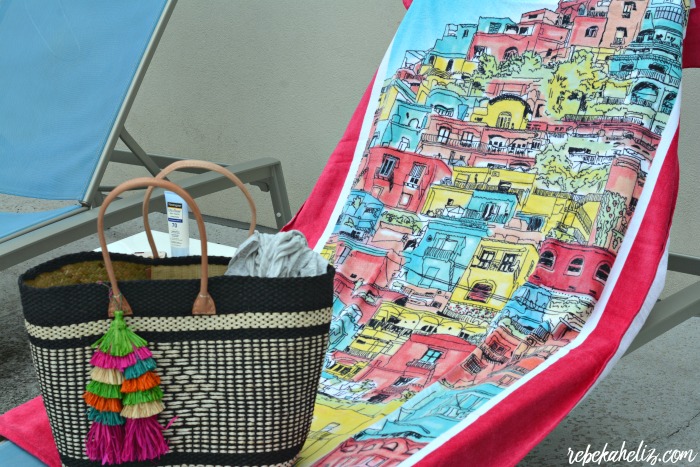 photo details: tote // beach towel // sunscreen
As I've gotten older, I've gotten much more careful with my skincare regimen. With that being said, I've started wearing sunscreen every single day on my face. Even when you're driving, you can get sunburned. Being a pharmacist, I've done lots of research on which sunscreen I should use. I'm also allergic to a popular sunscreen brand, so I had to find something that would work for me.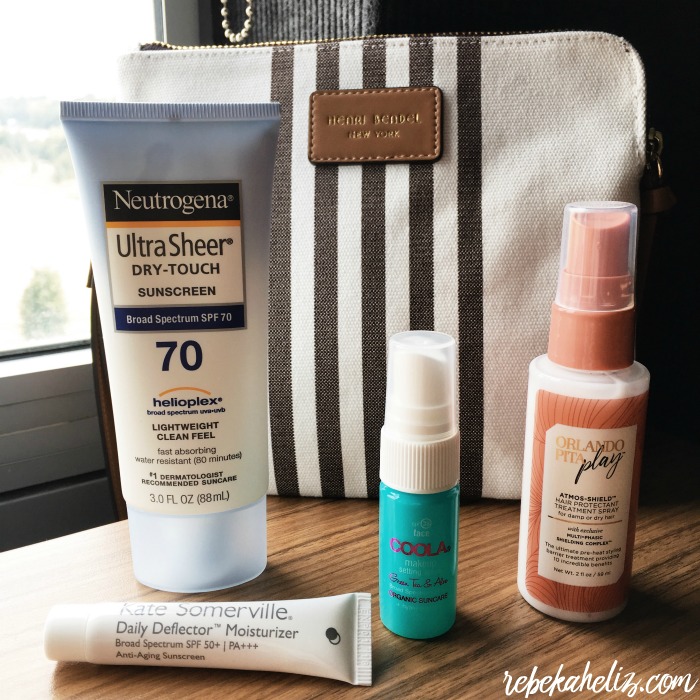 photo details: Sunscreen // Daily Moisturizer // Makeup Setting Spray // Hair Protector // Cosmetic Bag
After all my research, I chose this Neutrogena sunscreen. It feels amazing on your skin, and doesn't make my eyes burn if it gets in my eyes. I wore this in the pool and my face didn't burn one bit. It absorbs quickly! I recommend reapplying every hour or two when swimming.
This Kate Somerville moisturizer is what I wear on a daily basis right now. It has SPF 50 and is anti-aging. I highly recommend this. My esthetician said to be sure your face gets at least SPF 30.
Coola makes this great makeup setting spray with SPF in it! I wouldn't use this product by itself, but it's a great add-on to your sunscreen regimen. It's refreshing as well.
I think I've told you before, but I use heat protectant on my hair when in the sun. I really like this Orlando Pita Play spray. It smells good and works well to protect my hair! ***Be sure to visit my post on healthy summer hair here!***
This cosmetic bag is perfect for the pool, because the inside has a plastic coating. If you want to throw a wet bathing suit inside, that works too. The canvas stripes are fun, and they come in a set of 3 with a sunglasses pouch!
Here's what to look for in a sunscreen:
*protection from BOTH UVA & UVB rays
*SPF 30 is ideal
*water-resistant if sweating or swimming
*ingredients: avobenzone, titanium dioxide
Tips to remember about sun:
*lips can burn, too (try this)
*ears, hair part, and nose can burn quickly
*wear sunscreen even if you're tan
Shop the post:

I will be sharing more about where I stayed in Thursday's blog post! It was the perfect weekend getaway with a pool to get my tan on ;)
Thanks for reading! Let me know if you have any questions about sunscreen!
XO,
Rebekah