Happy first day of the #nsale open to the public! I've tried not to blow your phones, laptops, tablets, and desktops up with too many posts on the topic. I know you've heard about it by now. One thing I'm noticing though is we need more bloggers talking about the curvy section of the sale! That's what I'm here for! I want to share nineteen curvy fall basics under $100 that are perfect for the upcoming (and hopefully soon) cooler weather.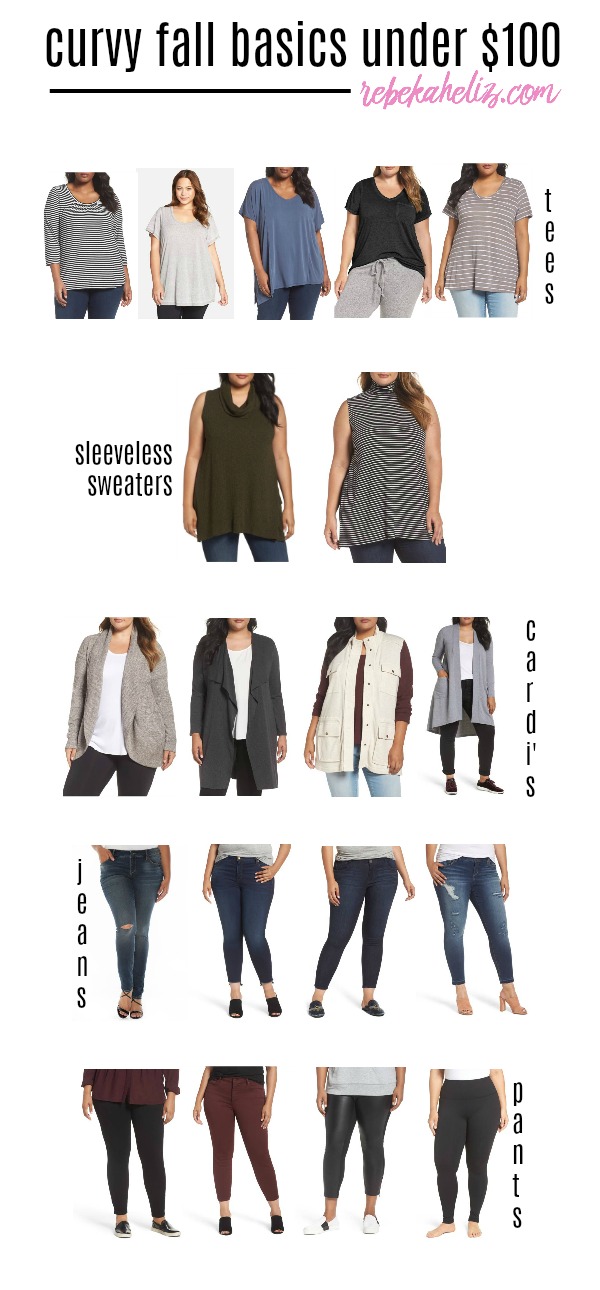 If there's one thing you can never have too many of, it's a good basic tee. Luckily, the sale delivered well in this category. I snagged all of these pictured here, but the striped tee on the far right is my fave. It's super soft & comfy.
My number one fave purchase is this sleeveless olive tunic! I am obsessed with it. I can see it paired with a pair of jeans and a cozy cardigan. The cowl neck is perfect!
The sweatshirt vest in the middle of the third row is a close second as to what I purchased from the sale. It's the softest ever! It will look super cute with a striped long sleeved tee underneath. I love how long it is, so you can wear it will leggings if you so desire!
The jeans on the far left are my favorite jean purchase. The slit in the knee gives the right amount of flair to this pair. These are from SLINK, and the fit is amazing. They hug you in all the right places and are super flattering.
I've heard some really good things about the Zella leggings (bottom row far right), so I've ordered them as well. They are high-waisted and apparently suck you in. I can't wait to share my thoughts. I also love these burgundy skinnies!
If you're looking for other items, I have a dedicated #nsale page here.
Shop the sale:

Thank you so much for reading & let me know what you choose to buy from the #nsale! Have a great weekend everyone!
XO,
Rebekah