Happy (freezing cold) January 3, 2018! I am so excited that I have FINALLY picked a word out that I want to "live out" in 2018. As you may remember, last year's word was focus. If you want to read more about last year's word, see this post! I spent a lot of time really thinking about this year and what I want to accomplish. That's why I finally chose the word for 2018…drum roll please…DREAMS. That's right, not one dream but multiple…with an "s".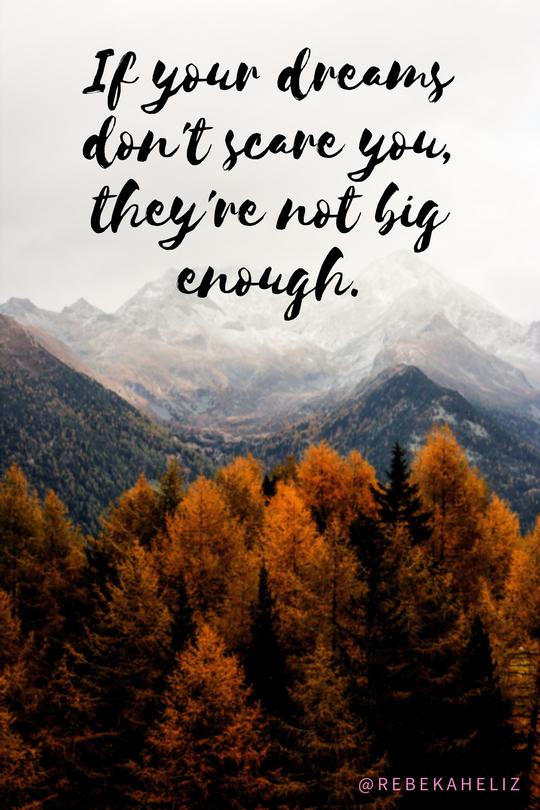 I've always been a big dreamer. I've always loved learning and exploring. One of my favorite sections here on the blog is travel. Don't worry, you don't have to leave the country or go on an extravagant trip to explore. Some of my very favorite trips in 2017 were to smaller towns. Also remember to visit places seasonally. I LOVE looking at changing trees and Christmas lights.
PERSONAL LIFE
Last year was really difficult losing my grandma. Come to think of it, it's been a rough 5 years losing my mom and grandma. I often find myself catering to others ALL the time. Don't get me wrong, this isn't a bad thing. However, when it comes down to the fact that I NEVER have any time to myself, I realized that I needed to make a change. Reflecting on my thirty years so far, I've really changed. I used to be super dependent on people and could not stand being alone. As I've gotten older, I have really learned to enjoy taking time for me and having "me" time. Whether it be going to a movie or a solo road trip, alone time is very important.
BLOG
I have started working with a blog consultant. I'm pretty serious when I say that I want to grow and expand the blog quite a bit in 2018.
The plan is to produce regular blog posts on Mondays & Wednesdays going forward! You will see a mix of style and beauty on these days. I will also be weaving in travel posts when I return from a trip. I will alert you of those posts via social media.
A weekly newsletter, Week in REview, will go out each week that will recap what was on the blog, current sales, or any news I need to alert you of ;)
SOCIAL MEDIA
Throughout the last month, I've been working on narrowing down my goals for my little corner of the Internet. As of now, the focus will be on Facebook, Instagram, and Twitter. Here's what you will find on these platforms:
Facebook: Blog post recaps, "Fashion Friday", gif's I'm laughing at, polls
Instagram: Outfit of the day posts with my photographer, beauty products I'm loving, my fave photos from my blog posts
Twitter: Lots of polls, RT's from my favorite bloggers, my opinion of TV shows I'm watching (NCIS, the Bachelor, Relationshep)
Also, be sure you're following along on Bloglovin' & LikeToKnowIt.
Bloglovin': A handy website where you can see all of my posts in one place. You can also discover blogs that are similar to mine.
LikeToKnowIt: A handy tool that I often use in my Instagram posts. Here you can see all photo details in one place and shop! Did you know there's also an app? Be sure to download the app & follow me "rebekaheliz" to get updates ;)
TRAVEL
 I have some pretty big dreams and most involve some sort of traveling. I have been out of the country several times, but I have several more places I want to see. If you've been a reader here for a while, I have traveled several places in the US with my bloggy BFF's. We already have five trips planned for 2018:
Chicago (February)
Maroon 5 in Dallas (June)
Texas Tech game in Lubbock (September)
Ed Sheeran in Dallas (October)
Texas Tech game in Dallas (November)
From this list, it's obvious that I gravitate toward three things: beautiful men, football, and Texas. But guess what? I have no shame!
I also have three other places that are on my list (for sure!) to travel this year:
California coast (April or May)
Salt Lake City/Park City (August)
Vancouver & Whistler (December for Christmas)
As you can see, cold weather does not scare me away. I DREAM of Whistler at Christmas, and next year I'm going to make it happen.
Now for the FUN, I'm going to be doing a giveaway every Friday in January. I wanted to give back to my readers who made Rebekah Elizabeth what it is today. I can't wait to share our DREAMS together this year. Each week will be a surprise but trust me, you'll want to tune in.
THANK you for reading and following my journey here on the blog. I can't wait to see where my DREAMS take me this year.
XO,
Rebekah