FINALLY Friday! Has this week been super long or what? I wanted to reserve Fridays as a "catch all" for what's been happening here on the blog, in life, on tv, etc. It'll probably be random but hey that's what makes it fun. If there's anything you want me to highlight or talk about on Fridays, let me know. Here's the first of many Friday Faves!
Fave podcast:
Since I drive 45 minutes to work each way, I like to listen to music a lot. I'm wanting to get more into podcasts though. Anyone else obsessed with this Elizabeth Holmes scam? If you follow me on any form of social media, I've already been talking about it! It's absolutely crazy to me that she defrauded SO many people. High ranking officials, investors, important military leaders…CRAZY. The podcast is called "The Dropout" and it's SO good.
Fave TV show lately:
JUST ONE?! I have so many. Summer House is my guilty pleasure. Anyone else watch this show? I'm so obsessed. I've been a Carl Radke fan since day one! It's really just about a group of adults (lol) that live in the Hamptons for a summer. Is there any aspect of the show that is quality television? No, but I'm okay with that.
Fave purchase recently:
In Monday's blog post, I talked about the Uncommon James earrings that I have been wearing nonstop (pictured below). I loved them so much that I came straight home and ordered these "girl boss" hoops. I like the clean lines and they will go with everything. You can sign up for the newsletter and get 10% off ;)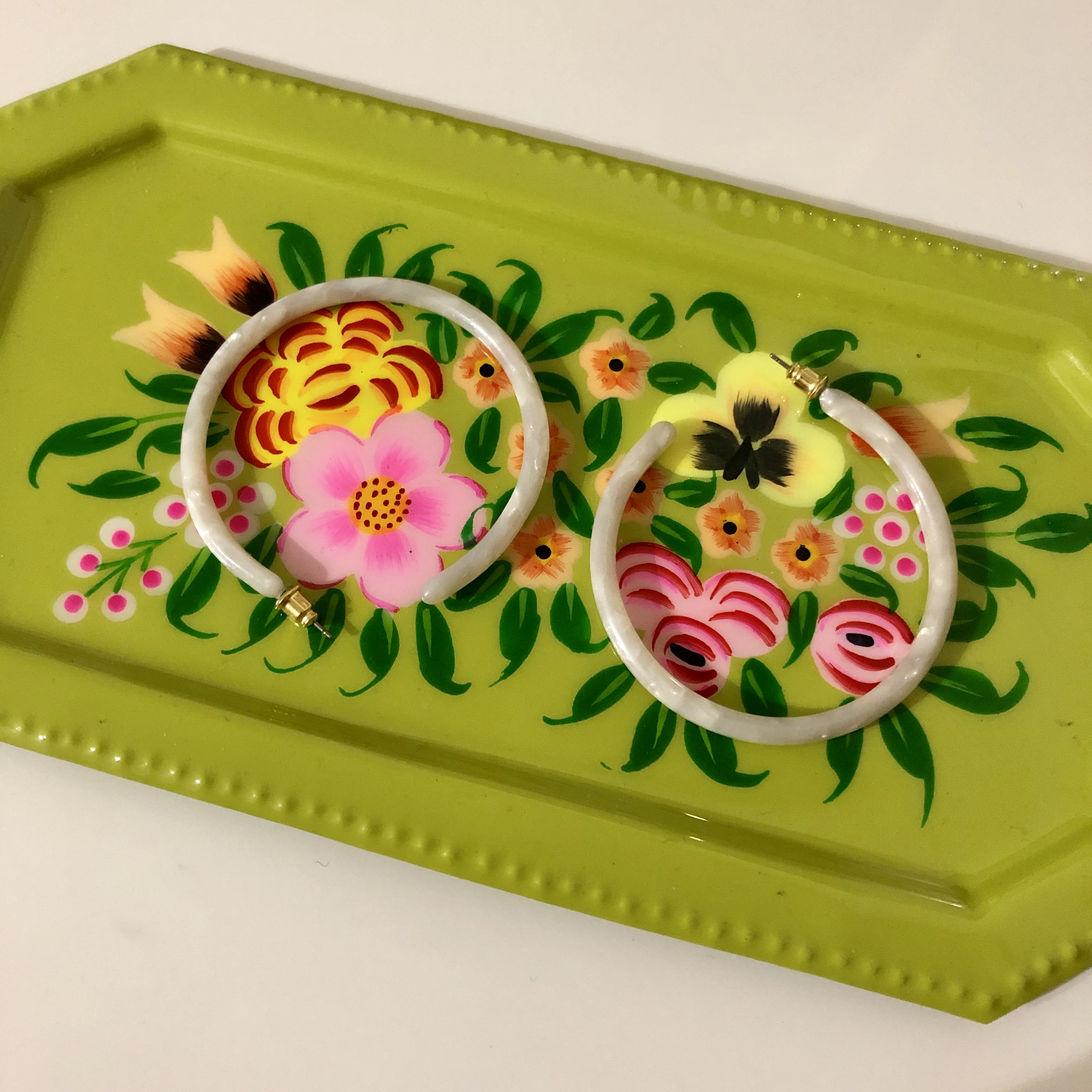 Weekend plans:
I'm headed to see John Crist this weekend with some friends. He is hilarious y'all! I love his sketches. One of my favorites is "If Bible characters had iPhones" LOL. I'll be sure to report back how funny he is in person! I'm also finishing up next week's posts. Be sure to let me know if you have anything you want to see here on the blog.
Next week's blog plan:
Monday: Striped Pants + Blue Cardigan
Tuesday: Santa Fe Trip Recap
Wednesday: Spring Casual Outfit Collage
Friday: Friday Faves
Have a great weekend y'all! Thanks for reading.
XO,
Rebekah