It's Monday! Where in the world did the weekend go? I had the weekend off, because I was supposed to go to Houston for Coldplay. Unfortunately I didn't get to go because of Hurricane Harvey. The concert was postponed, so I can't wait to hear when the new date will be. My thoughts & prayers are with all of those affected by the storm. On a lighter note, I wanted to share the contents of my Sephora PLAY box from August. Here we go…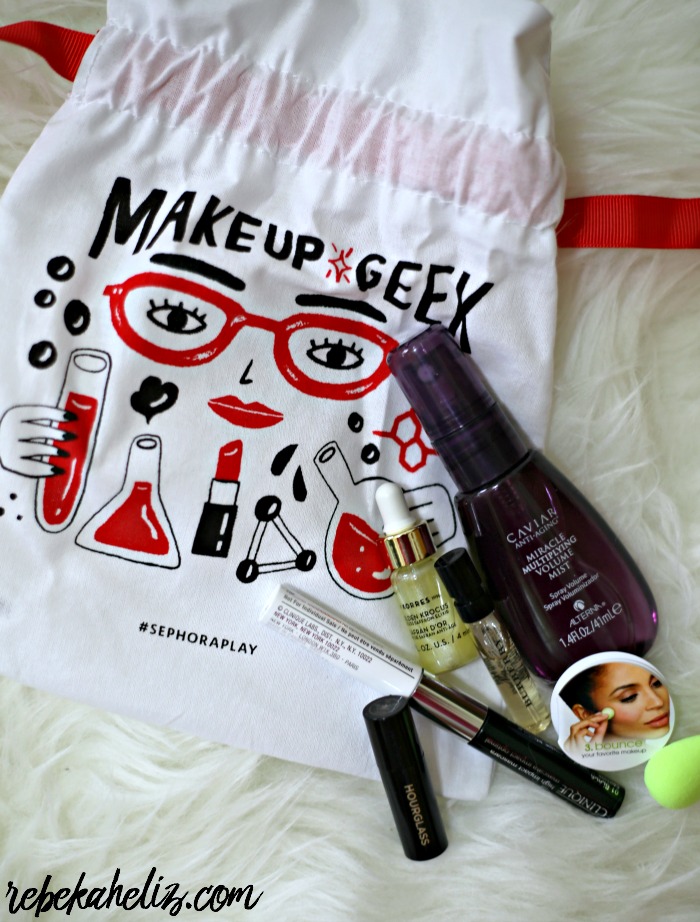 NERD ALERT ;) This box brought back a flood of memories when I opened it. I was such a nerd in college, so this month's bag really made me laugh. Since I'm no longer an organic chemistry geek (in school), I might as well be a makeup geek. #noshame
I can't wait to try this Caviar volumizing mist. Since I have fine hair, I would love to pump up the volume. I've found that my hair holds curl better when it hasn't been washed as often, but that tends to leave it flat. I've heard good things about this brand, so I'll keep you updated!
I'm excited about this Burberry perfume this month. It's got some major rose notes in it, so you know I'll like it. I'm going to give this floral scent a try, because I usually stick to oriental scents.
Clinique is my ride-or-die brand. It was my first makeup brand I ever tried, and it reminds me of shopping with my mom. This high impact mascara will be perfect for travel!
This beautyblender micro mini is genius for the under eye area. I will use it to apply my favorite under eye concealer in the morning.
I have been wanting to try more from the Hourglass brand, so this foundation stick is awesome. And since I haven't been able to get much sun, this color (vanilla) matches me well. Just throw on a little bit of bronzer if it's too light. I tried it tonight, and it's full coverage but not heavy. That's a win-win in my book.
I started using this Korres serum last night to help me continue to get rid of my dark spots. I've been doing dermaplane, and it's helping. However, I needed a serum for nighttime, so I've added this one to my rotation.
Most versatile product: Hourglass Foundation Stick (primer/concealer/foundation in one)
Product I'm most excited about: Caviar volume mist
Shop the box:
Also, I wrote an entire blog post if you want more info on why you should subscribe to the Sephora PLAY. That post is here!
Thanks for reading! XO,
Rebekah
(photos by D. Keener Photography)